cueSports
Snakewood
Snakewood
Snakewood is an incredibly beautiful wood which originates mostly in Suriname, South America. The specific gravity is around 1.2, making it one of the worlds hardest woods. The part sold as snakewood is really the heartwood of the larger tree. This wood is usually felled with axes and carried on the backs of hard working natives over streams and through snake infested jungle areas. Each tree felled is monitored, and the government has developed a strict permit process to control harvesting.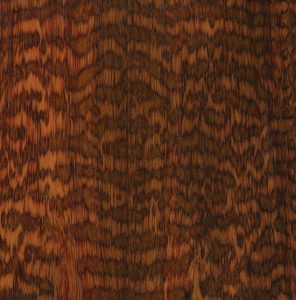 Snakewood
Brosimum guianense
Snakewood is among one of the heaviest and hardest woods in the world, it is incredibly dense with a lot of natural oils in the wood. As snakewood is so dense and oily it polishes to a very impressive shine and feels very nice in the hand. The heartwood ranges in colour from deep red to a lighter orange colour, the highest grade of snakewood has a close grain with a uniformed snakeskin pattern.
SNAKEWOOD
LATIN: BROSIMUM GUIANENSE ORIGIN: COASTAL NORTHERN SOUTH AMERICA
Snakewood is the most expensive woods in the world. It only grows along the coastal area in northern South America. The tree is very small and has a high waste factor when cutting. It is dark reddish brown with darker brown to black patches, dinstinguished by a unique snake skin grain pattern. It is typically priced according to the level of figure with very highly figured pieces costing more. Figure is often only visible on one or two sides of a piece.
Snakewood is very heavy and dense, and is very brittle. It does turn very well and finishes with a high sheen. We carry this in small turning stock sizes, knife blanks and fingerboards for musical instruments.
WOOD TYPE
Exotic hardwood
TEXTURE
Fine even texture, high luster
GRAIN PATTERN
Straight, distinguished by light to heavy snake skin pattern
HEALTH RISKS
Uncommon
COLOR
Deep reddish brown with darker contrasting brown or black patches
Details

Written by

cueSports

Parent Category: DIY
Category: Exotic Wood